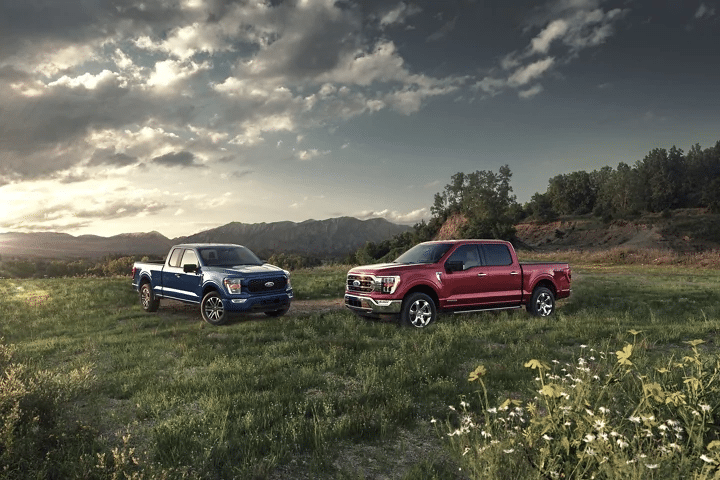 The Ford F-150 Series has long been a best-selling favorite. With new additions for 2021 models in the lineup, Ford has you working smarter, not harder. At Humber Motors Ford, if you're looking for a truck that can take a challenge, has intelligent features that make good common sense, and is full of innovative safety features, look no further than the classic F-150s.
Capability
With seating up to six on some models, the F-150 works to get the job done. Redesigned with you in mind, the F-150 is ready to take on any challenge.
Built with a high-strength, military-grade aluminum-alloy body, this truck is the ultimate workhorse. Whether you're heading to the job site or on your way to your weekend campsite, we provide Best-in-Class Available Towing and Payload. Outfit your truck to fit your lifestyle with six engine models from which to choose, including the available 3.5L PowerBoost Full Hybrid V6. A hybrid truck? You read that right - and it pulls no punches.
Need a little extra power? We've got the tools to get it done! With ProPower Onboard, a new class-exclusive available feature, your truck turns into a mobile generator. Choose one of three outputs that fit your most urgent need and power a welder, power tools, air compressor, or even that big-screen TV the guys are counting on for the tailgate this fall.
The Power Tailgate is an added convenience that makes loading and unloading a breeze. Lift and lower from a distance by using your key fob or the in-vehicle button.
Rest assured that whether you're working at the ranch, the job site, or the vacation spot, you have everything you need to get the job done. All our F-150s have been torture-tested on our Ford proving grounds and out in nature's extremes. This truck proves time and time again that it can be counted on to get the job done.
Features
We know your office hours don't conform to the typical 9am-5pm. To accommodate your schedule, we made your "office space" as convenient as possible. Designed with intention, the interior of the F-150 can be used as an alternative workspace when you're on the go.
The all-new Interior Work Surface extends from the center console, automatically turning your cab into a portable office. The work space's smooth surface makes signing documents easier and is large enough to accommodate a 15-inch laptop. Who needs a restaurant? Use your work surface as a tabletop, and enjoy!
Not only can your cab turn into an office, but if you're working late and need just a few minutes to relax, the all-new Maximum Recline Seats fold all the way back into a full recline to create a space in which you can truly stretch out. Now this is convenient!
Need a little extra space, especially for those items you'd like to keep out of plain sight? Rear Locking Under-Seat Storage provides the perfect hideaway. Integrated into the floor and located under the rear seats, this inconspicuous storage space offers just what you need for those pieces you don't want in public view.
Safety Features
At Ford, your safety has always been our top priority. Innovative new safety features like the Ford Co-Pilot360 technologies are just one way we want to keep you safe on the road. Providing you with driver-assistance technologies, these safety features will make you feel like you have an extra set of eyes - just when you need them most. Some of these features include:
Blind Spot Information System. When a vehicle enters your blind spot, our sensors alert you with an inconspicuous light on the corresponding side-view mirror. You'll never have to take your eyes off the road again. It's that simple and that transformative.
Lane-Keeping System. If you should deviate from your detected lane, our system will gently remind you to refocus on the road ahead. If you don't take corrective measures to straighten your vehicle, our system will guide you back into your given lane.
Pre-Collision Assist with Automatic Emergency Braking. If our system determines that traffic ahead of you is traveling slower than you are, we alert you to apply brakes and accommodate traffic speeds ahead. If you don't begin to slow your speed rate, our automatic emergency braking is activated, slowing you down to prevent or mitigate a frontal crash.
About Us
Our Humber Motors Ford team loves serving our friends and neighbors in Corner Brook. You expect the best from us, and we work hard to exceed those expectations.
If you've not had an opportunity to sit in the cabin of a newly designed 2021 Ford F-150, we invite you to visit us on Confederation Drive and give it a try. You won't be disappointed with all that Ford has to offer - especially in this all-time favorite.