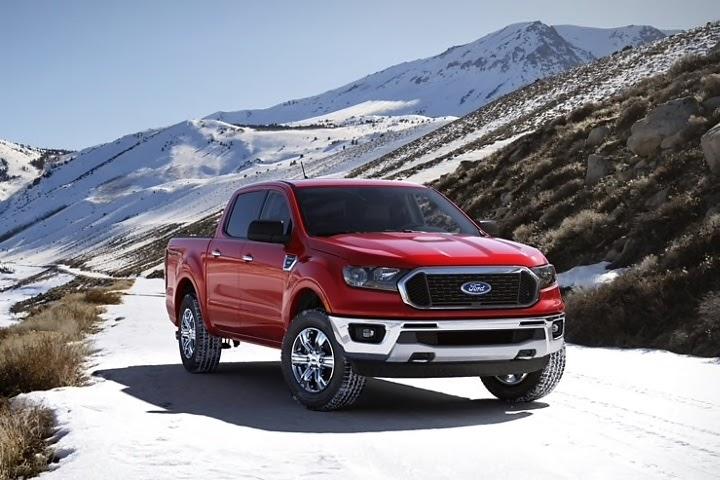 Don't get caught in the cold! As temperatures begin to dip, it's an excellent time to make a service appointment with our trained technicians at Humber Motors Ford to get your vehicle winterized. Winterizing your vehicle won't take us long but it can save you time, money, and irritation in the long run.
Think About Winter Tires
Back in the day, we called them snow tires. Not anymore! Winter tires are made of a unique rubber that produces optimal flexibility and grip on cold and hard surfaces, not just on snow. Winter tires should be used when temperatures begin to hover consistently around freezing. They're a little more expensive than standard tires, but you can use winter tires for several seasons if you remove and safely store them when spring arrives.
Change Oil
Oil tends to thicken in colder temperatures, making it harder to circulate in all the places it should to keep things pumping and clicking. As you approach your next 3000-mile oil change, ask your technician to replace the oil you're currently using with one that has a lower viscosity. (That means it is thinner and can be circulated more easily.) You'll want an oil that can circulate easily and can withstand the heat of the engine once you get on the road. Our service technicians can recommend the best oil for your vehicle as you travel through the winter.
Add Antifreeze
If we lived in a more moderate climate, antifreeze wouldn't be necessary. In Corner Brook, it's essential! Antifreeze is a colored liquid additive that is added to water-based liquids to lower their freezing point. Your technician should add antifreeze to your engine coolant and your windshield wiper fluid, too.
Check Battery
The average lifespan of a car battery is around five years. If you know your battery is older than that, go ahead and purchase a replacement before the Corner Brook cold gets here for good.
If your battery is less than five years old, all your technician needs to do is check the electrical system of your car (which includes your battery and alternator) to be sure everything is in working order. He should also check to make sure connections are secure and that all caps and wires look good.
If you're checking your battery independently using a voltmeter, a good battery reading is 12.4 volts or higher.
Check Tire Pressure
A simple rule of thumb is to check your tire pressure in your warm garage before you head out on a journey of any substantial length. Check the sticker on the inside of the driver's side door to see what your optimal tire pressure should be per your manufacturer. You should fill tires a little under the manufacturer's recommendation. Or you can ask your technician to check your tire pressure when you come in for your oil change, saving you the worry.
Don't get caught with a low, flat, or otherwise unsafe tire on a wintery road. Not only is it irritating and inconvenient, but it's also incredibly dangerous.
Check Windshield Wipers
Windshield wiper manufacturers recommend replacement every year, but most of us don't think to check windshield wipers until we need them. Take a look at your windshield wipers. Are there chips or cracks in the wipers? Do they scrape across the windshield? Do they smear rather than clear the windshield? Don't wait until you can't see to change your wipers. Have them replaced at your next 3000-mile oil change.
Prepare for Unexpected
If there is one thing we all know, it's to expect the unexpected. No matter how much winterizing and planning you do, there is a chance you will find yourself waiting on the side of the road. These tips may make that eventuality a little less chaotic.
The Ford Company's 24/7 Roadside Assistance representative will ask for your current location, vehicle make, model, and color, your license plate number, and your VIN. It saves lots of frazzled nerves if you go ahead and write all that information down on an index card and have it readily available in your glove box.
In an emergency, it can be too hard to think of details. Having it at your fingertips so that anyone can access it could save your life.
This next tip is something only you can do, not your technician. However, we recommend it to all our friends and neighbors when discussing winterizing vehicles. It's especially important if you travel with children or older adults. You need an emergency bag located within your car and outfitted for winter travel.
Take an old, clean gym bag and fill it with the following items so that if you are stranded, you and your passengers are prepared:
An extra blanket or two and travel pillow

Drinking water

Non-perishable foods like granola bars, trail mix, jerky, hard candy

Flashlight and extra batteries

Rain poncho

Reflective triangles or roadside flares to make your vehicle more visible

Simple first-aid kit containing: antibacterial wipes, ointment, bandages, thermometer, aspirin, tweezers, instant cold compress

Books, magazines, even a coloring book and crayons (for younger travelers)
The more you can do to prepare for winter now, the more confident you'll feel when you're out on the road in the cold. Call or schedule online your winterizing maintenance appointment with one of our trained service technicians TODAY! You'll be so glad you did.