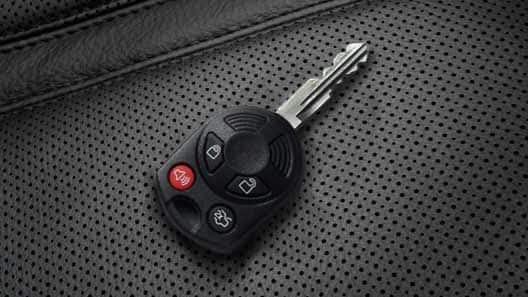 Our sales team at Humber Motors Ford will tell you that Ford MyKey should be a serious consideration for anyone trying to reinforce good safe-driving habits, but it's a must-have for those with first-time drivers in the house.
According to Halt.org, 10% of fatal crashes and 18% of injury-causing crashes in Canada are caused by distracted driving. Distracted driving is statistically higher among teenage drivers between the ages of 15 and 19. One way we can work together to change these statistics is by implementing programs like Ford MyKey.
With both automatic and configurable safety controls, Ford MyKey is just one more way The Ford Company keeps drivers safe and helps anxious parents feel calmer and more confident when their first-time drivers are out on the road.
MyKey Basics
Ford MyKey is a standard safety feature for all Ford models due to our commitment to safety for drivers, passengers, and pedestrians. MyKey is a programmable key that sets specific safety parameters for drivers, even when they may be the only person in the car.
One vehicle can have up to 9 MyKeys, but all must use the same configurations. The MyKey administrator cannot individually program all 9 MyKeys. The same safety standards must be uniform for all.
One tip before you travel together: If you travel with your MyKey user and carry the admin key with you, the system will default to the admin key.
We recognize that MyKey isn't for everyone. After you've programmed MyKey into one of your keys, if you realize that you don't like the system, you can always make changes to your settings or disable MyKey altogether.
Non-Configurable Features
Once the administrator enables MyKey, there are a handful of default settings that cannot be adjusted. Those settings include:
Until the front seat passenger's seat belt is fastened, the audible reminder will continually chime every 30 seconds, in 6-second intervals, and the audio system will remain muted.
Drivers receive an alert for low fuel or low charge at 75 miles instead of the standard 50 miles, giving them good, safe, well-lit opportunities for taking a quick refueling stop.
If your vehicle is equipped with Driver Assist Technologies like Blind Spot Information or Lane-Keeping Assist, those technologies will be turned on and remain on.
If your vehicle has satellite radio, restrictions on adult content are turned on automatically.
Configurable Features
We understand there are some features the MyKey administrator would like to control. The administrator can program the following settings using their discretion:
Set a maximum speed limit for the driver using the MyKey. Once your driver reaches this designated speed, the touchscreen/display will show warnings and hear a warning tone. Once the administrator has set the maximum speed, there is no way for the driver to override the speed restriction.
While it may be tempting to set a vehicle speed limit that's relatively low, this is a feature we encourage you to discuss with a trusted service technician or law enforcement officer.
Your driver must be able to navigate road conditions, pass slower drivers, and maneuver out of dangerous situations safely. Please be mindful when setting maximum speed limits.
Set speed alerts so that when your driver reaches typical maximum speeds, they hear an audible tone.
Set the audio system to a maximum of 45% of the total volume.
Turn on "Always On" for Advance Trac, an electronic stability system that provides increased traction and confidence while navigating challenging terrain like ice, snow, gravel - even dry pavement, 911 Assist/Emergency Assist, and the Do Not Disturb function.
About Us
Our team at Humber Motors Ford is proud of the critical lifesaving safety features The Ford Company provides our vehicles. Not only do we have innovative programs like Ford MyKey, but we also have brand-new driver-assist technologies, too. Your safety has always been our top priority.
We have served our Corner Brook community long enough to know what you expect in a top-quality dealership selling top-quality vehicles. We work hard to exceed your expectations.
We know that car-buying is a significant investment that requires time and space. We respect both. We don't hover over you or hassle you. We are here to provide advice and make suggestions based on our years of experience and knowledge of our brand.
If you're curious about what MyKey can do for you, come by for a visit. We are happy to explain how the Ford MyKey can help you feel safe and help you get started.