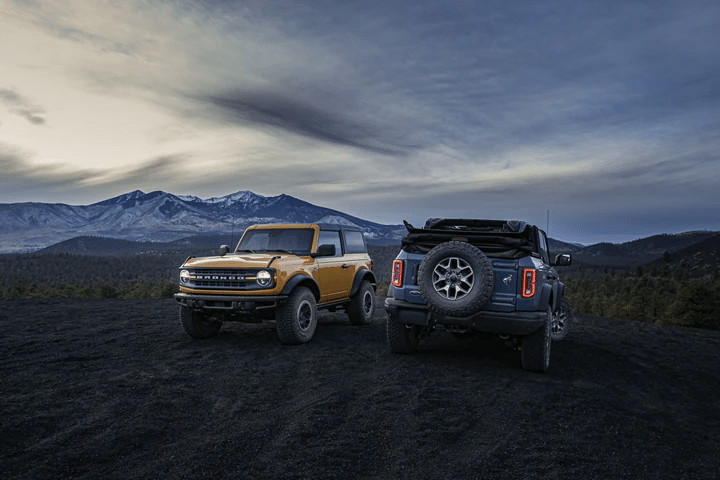 Our team at Humber Motors Ford is thrilled that the wait is over for the reimagined, redesigned 2021 Ford Bronco. With seven models to choose from, match your favorite outdoor activities with the model made to get you where you want to go and back again.
Ford Broncos have the capabilities to go out into the wild, features that keep you connected, and safety innovations that inspire confidence on the open trail. There's a lot to appreciate in this new outdoor-loving, adventure-inspired, wild-spirited Bronco.
Capability
There's a whole world out there just waiting to be discovered. The 2021 Ford Bronco makes exploring fun and easy. With seating for up to five and plenty of cargo space for all the things you'll need to make adventuring fun, you'll appreciate being able to choose from seven trim lines, each engineered with specific trekking in mind.
The Bronco is Built Ford Tough. Each model is outfitted with G.O.A.T. (Goes Over Any type of Terrain) Modes that allow you to tailor your Bronco's performance to your current environment. Choose from Normal, Eco, Sport, Slippery, Mud/Ruts, Sand, Rock Crawl, and Baja to optimize your handling and powertrain response.
Go where you want to go with confidence! The Trail Control Toolbox is available with automatic transmission. This cruise control setting works at low speed to relieve pressure from the stress of maneuvering a challenging trail. This feature allows you to mind what matters most while navigating.
Features
Gauges and controls within the Bronco cockpit are intuitive and easy to use. Interiors are roomy and comfortable. Easy-to-clean interior surfaces with rubberized, washable floors, integrated drains, and an available option for marine-grade vinyl seating mean all you have to do between adventures is hose out and start over.
Decide between several roof options that include a hardtop system with multiple easy-to-remove panels. Our all-new Bronco delivers best-in-class second-row and overall openness with the top removed.
Engage up to six standard and available features on our Off-Road Hero Switch pack. Conveniently located on the dashboard, you can choose between sway bar disconnect, front and rear differential lock, Trail Turn Assist, electronic stability control, and hazard lights.
Our FordPass Performance App with Off-Road Navigation marries advanced technologies with lots of fun for particularly intrepid travelers. This feature allows you to choose from a professionally curated list of class-exclusive electronic trail content from professional trail guide providers such as Trails Off-Road and FunTreks.
This feature also allows you to record video and vehicle telemetry to your mobile phone. Then, once you've stopped the car, you can play back the video and see customized overlays of data like GPS, speed, rpm, pitch, and yaw shown as custom gauges on the video.
Safety
Your safety is our priority. The Ford Company has researched, developed, and implemented some of the most innovative safety features on the road today.
Our Ford Co-Pilot360 technologies are a suite of driver-assistive features that instill confidence behind the wheel. Many of these technologies are standard across all our models. Some of those features include:
Blind Spot Information System. When traffic enters your blind spot, we alert you by illuminating a small light in the corresponding side-view mirror. It's a simple thing, but it keeps your eyes on the road ahead. When seconds count, your eyes are right where they belong.
Lane-Keeping System. If your vehicle veers from your detected lane of traffic, our system alerts you to refocus on the road ahead. If you are unable to keep your vehicle in your lane, then our system kicks in and gently assists you in maintaining your lane of traffic.
Pre-Collision Assist with Automatic Emergency Braking. Traffic can be unpredictable. Unexpected slowdowns, even stops, can catch drivers off-guard. Our system scans the road ahead for unpredictable slowdowns or stops. If they happen, we warn you with enough time to prevent a collision. If you're unable to slow down in time, our system activates Emergency Braking and slows down for you.
These are only a few of the safety features that are standard and available across many of our models. Make sure you ask your sales team member to walk you through the safety features on the model in which you're most interested.
About Us
Our team at Humber Motor Ford is excited to show you the new 2021 Ford Bronco models.
We know buying a car is an investment. So, our team gives you the information you need to make the best choice for your family. We answer all your questions based on our brand knowledge and years of experience. Then, we allow you space and time to think through all your options.
Visit us on Confederation Drive and walk through the Ford Broncos - TODAY. Let's pick out your favorite and start adventuring.