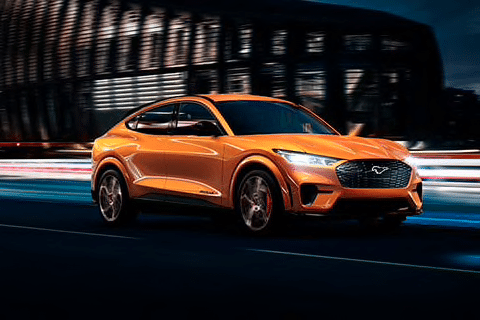 The Ford Mustang is an icon. The silhouette, power, and capability are legendary. However, we all know if you remain stagnant and resist change, you can't ever grow. That's why our team at Humber Motors Ford is so excited about the Ford Mustang Mach-E.
The Ford Mustang Mach-E is the first-ever electric Mustang with zero emissions. It evokes a feeling of freedom and does something meaningful for the world around us at the same time. It's got an excellent design, impressive tech, and outstanding safety features.
Design
With eight models from which to choose, you can select the model that speaks to your lifestyle. Each Mach-E shares a dynamic, modern, sophisticated exterior that turns heads, no matter where you go.
Each interior is a showplace of master craftsmanship, premium materials, and uncompromising upgrades. Ask your sales team member about our Black Onyx ActiveX Seating Material, which is comfortable and easy to clean.
Wicked cool exterior colors pop while you scoot down the highway, and you can get your thrills by putting the pedal to the metal with the capability of 0-60mph in 3.8 seconds.
It may take a little getting used to, but the convenient front trunk gives you plenty of room to pack for adventure. This added storage space is water-resistant, washable, and features a drain so that your versatility knows no bounds. Throw muddy hiking boots inside, or fill with ice for your favorite beverages!
Tech
The Mach-E looks and operates like a car from the future. Available E-Latch is a perfect example of this new technology. When your Mustang recognizes your approach, it will present an illuminated button - and with one touch, you can open your Mach-E. It knows when you leave, too, and locks itself.
You'll appreciate FordPass Connect, which gives you the capability to turn your Mach-E into a 4G LTE Wi-Fi Hotspot that can power up to ten devices at one time up to 50 feet outside the vehicle. Your passengers can share, download, and stream no matter where your journey takes you.
Available eAWD (electric all-wheel drive) delivers exceptional performance and handling. Front and rear motors distribute power to each axle, providing the acceleration you need when taking on snowy (or sandy) roads.
Go the extra mile! With an EPA-estimated range of 300 miles on the Mustang Mach-E Premium with extended-range battery and access to the largest public charging network, the world is at your fingertips. Map your trip and find easy-to-use chargers along the way.
SYNC 4A provides a user-friendly, intelligent, and adaptive experience for all. Enjoy smartphone connectivity to keep you connected with your contacts, playlists, and podcasts.
Safety
Ford's Co-Pilot360 Technology beats any other safety technologies on the road today. From your driveway to the highway, these innovations help keep you and your passengers safe. Ask your sales team member about safety features that boost your confidence! Features include:
Blind Spot Information System with Cross-Traffic Alert. When a vehicle enters your blind spot, this system alerts you. It sounds simple, but this innovative feature lets you keep your eyes on the road ahead and trust that we'll tell you when the lane is clear.
Cross-Traffic Alert. When you're in reverse, our systems monitor traffic coming from either side of your back bumper. Most helpful when reversing into crowded parking lots and out of street parking, this feature is a lifesaver.
Lane-Keeping System. Our system detects when you're drifting in and out of your detected lane and alerts you to refocus and realign your vehicle. If our system detects you are drifting multiple times without using your turn indicator, it illuminates a warning to take a coffee break.
Auto High Beams. Our headlamps detect ambient light and operate your high and low beams automatically. You can count on always having the light you need to see around the darkest corners.
These are just a few of the many ways Ford keeps you safe while you're driving the Mach-E. Be sure to talk with your sales team member about the safety features available and standards within the model in which you're most interested.
These are lifesaving conversations. Make sure you understand how these features work before you leave the dealership.
About Us
Our team at Humber Motors in Corner Brook is excited about the Ford Mustang Mach-E. If you're looking for the newest technologies available and you want to make a difference in the world at the same time, look no further.
The Mach-E is innovative, sports a unique, futuristic design, is full of technology, and includes safety features that matter. You need to see this machine for yourself. Come see us and let us help you think through all your options. You won't regret it!