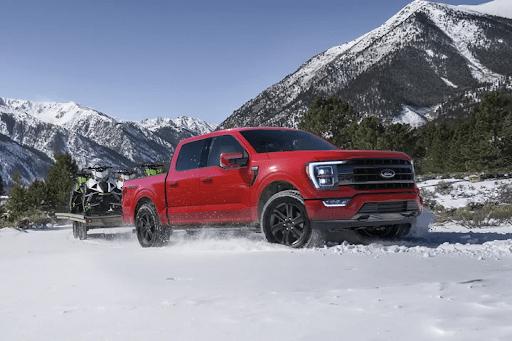 Our professionally trained service technicians at Humber Motors Ford know it's better to winterize your vehicle when temperatures start to hover around freezing. But it's never too late to check this winter project off your list.
There's no better time to bring your vehicle in for winterizing with easy-to-schedule online appointments. In the long run, you'll save time, money, and heartache! Our technicians are ready to serve you.
Batteries
Cold weather takes a toll on machinery, including your battery. If you're unsure how old your battery is, you likely need a new one. A battery has a lifespan of about five years. So, if you enter the winter months with an older battery working past its prime to get you where you need to go, chances are you'll find a dead battery on your hands sooner rather than later.
During your winterizing appointment, we will test your battery. We'll check all the cables and connections, too. The last thing you want to do on a cold, snowy day is to hop into your car to find a dead battery. This appointment can save you that experience!
Tires
Winter tires are well worth the investment. You need the extra traction, grip, and handling winter tires can provide. As winter months begin to warm, you can change those winter tires and hang on to them until next season. Usually, with normal wear and tear, if changed out every winter, winter tires last four or five seasons.
No matter how far your planned journey is, take the time to check the air pressure in your tires before you leave the comfort of home! You can lose air pressure at a rate of one pound of pressure per ten degrees dropped in temperature. So, before you leave home or the office, check to be sure your tires have the recommended amount of air.
Oil
Before the dead of winter sets in, you'll want to change your oil to one with a low viscosity. The lower the viscosity, the more quickly the oil pours. When temperatures cool, oil gets thick. Thick oil doesn't travel through your engine the way it should. If your oil is too thick, it makes it harder for all your essential engine parts to move. That can lead to a serious and expensive issue for your engine.
We will flush your old oil from your engine during your winterizing appointment and replace it with an oil specially formulated for cold weather. You'll have the peace of mind you need knowing your engine and all its important parts will work the way you need them to.
Windshield Wipers
Have you noticed a shuddering sound when you use your windshield wipers? Are your wipers smearing more than they are clearing? On close inspection, you may see chips and chunks missing from the blade. If so, it's time for new windshield wipers!
Winter wipers are specially engineered to handle cold winter weather and withstand icy precipitation and extreme temperatures. They work well to clear your windshield and ensure you'll have the clean windshield you need to see the road ahead.
Another recommendation is to fill your windshield wiper fluid with a formula designed not to freeze. This kind of fluid is sold in most auto parts stores. During the winter, it's a good idea to keep a larger quantity of this fluid handy so that you can refill your reservoir often. One good snowstorm can use almost all your washer fluid. You don't want to find yourself with no liquid left when you need it most. So, check your fluid levels often and add to your reservoir as required throughout the winter.
Emergency Kit
Our team can't supply you with an emergency kit, but we highly recommend you take the time to put one together and have it easily accessible from inside your vehicle. Preparation is important. No matter what precautions you may take, life is unpredictable.
If you find yourself stranded in traffic, waiting on a tow truck, or otherwise incapacitated on the road, you'll be thankful for your emergency kit.
While this isn't a comprehensive list, we recommend your kit include:
Flares

Foldable warning triangles

Whistle

Antibacterial wipes

Bottled water and non-perishable food items (crackers, hard candy, granola bars)

Warm blankets, extra socks, mittens, hats

Emergency rain poncho

Books, magazines, coloring books and crayons, a deck of cards

Jumper cables

Ice scraper

Portable and charged cell phone charger

First aid kit (bandages, Ibuprofen, peroxide, antibacterial ointment)
A well-stocked emergency kit can make uncomfortable waits much more bearable, especially if you're traveling with older adults or small children. Be prepared for any contingency!
About Us
Our Humber Ford service technicians want all our Corner Brook friends and neighbors to be safe this holiday season. Winterizing your vehicle is a responsible first step in preparing for the season.
One quick appointment and then a little follow-up throughout the winter could save you time, money, and frustration. Call us or schedule a winterizing appointment online. We want to make sure you're ready. Being prepared isn't just for the Boy Scouts!