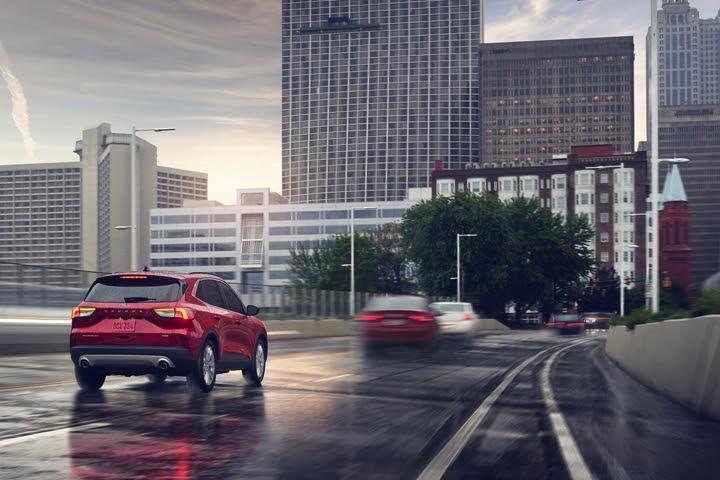 Long commutes are nothing new for many Canadians. Make the most of your commute with comfort, efficiency, confidence, and cost savings. Don't dread that daily drive. Let Humber Motors at Corner Brook help you make the best of it.
Comfort is Key
Being comfortable is critical to enjoying your ride. We make your comfort a standard feature in all our car, truck, and SUV models. Known for its lumbar support, adjustable headrests, and ample legroom, our Ford Focus receives rave reviews for helping drivers with their back pain. Seat comfort options range from plush upholstery to heated leather.
Do your feet get cold, but your passenger complains about being warm? No problem. Climate control provides passengers with individualized comfort zones. Ask about our SYNC 3 system, which puts climate control features, defrost, and even fan speed only a touchscreen away. In equipped models, voice command is available to set and adjust most comfort controls.
For especially long commutes, adaptive cruise control is a feature worth considering. Using in-car radar to scan for slower vehicles, your car automatically adjusts the cruise-controlled speed to maintain your gap. You can even customize the desired following distance between your vehicle and the car ahead of you so that a safe speed and distance can be consistently maintained.
Entertain Your Brain
Don't zone out on your way to the office. Design your commute time. Before you leave the driveway, queue up a couple of podcasts. Whether you're a news junkie, sports fan, history aficionado, or true-crime armchair investigator, podcasts provide something for everyone. Pick a podcast that fits the length of your commute, so you can binge-listen all the way to work and then home again.
Fuel Economy
Saving money on fuel costs is imperative for a commuter. The first step in fuel economy is choosing a Ford model that's appropriate for your unique circumstances. While our popular Ford Fiesta, Focus, and Fusion models have a solid reputation for fuel efficiency, our 2020 Ford Escape Hybrid is a road boss. Running at an average of 48 miles to the gallon, this hybrid is hard to beat for a serious commuter.
Ten of our most popular models have an EcoBoost option. EcoBoost combines three technologies for a combination of power and efficiency, maximizing fuel economy and turning our fan-favorite models into fuel savers. Also available in most models is Auto-Start and Stop, designed to help reduce emissions and the amount of fuel you use.
Car maintenance is a tried and true way to optimize the fuel economy of any vehicle. Maintaining air pressure in your tires, scheduling timely oil changes, replacing dated air filters, and even checking to be sure the gas cap maintains a tight seal are all common examples of ways to save.
Instead of thinking about your commute as a time-killer, use this time for - you! Where else in your hectic schedule can you find time alone? Use this time, especially on the way home, to refocus. Listen to classical music. Use a guided meditation. Practice safe stretches and good posture, allowing your body to unkink after a long day. Take the time to switch from "office personality" to "home personality" and walk through your door less stressed and more focused on those waiting for you at the other end of the road.
Be Prepared
Confidence in your vehicle performance alleviates many commuter anxieties. Several add-on possibilities provide critical safety features. Ford's Lane-Keeping System gently alerts and/or aids you in safely maintaining your lane. Collision Warning with Brake Support uses sensor technology to alert you to vehicles traveling more slowly in front of you by using an alarm and a flashing light on the windshield. If you don't apply the brakes quickly, the brakes pre-charge so when applied, the vehicle stops more quickly than it would otherwise, thereby avoiding a potential accident. Ask any of our sales attendants about these innovative features.
Pack Snacks
Once you've gotten on the road, the last thing you want to do is STOP! Assuming most commuters carry a beverage to and from work, think ahead and pack some favorite snacks for your drive. Consider an inconspicuous shoebox or small bag that can keep you supplied from day-to-day. Granola bars, dried fruit, mixed nuts, crackers, pretzels, jerky, and M&Ms keep well over time. Throw in some chewing gum or breath mints, too. Just in case!
Your commute should not be miserable. Come see our team today at Humber Motors at Corner Brook for more ideas about how to make your commute something you can enjoy.