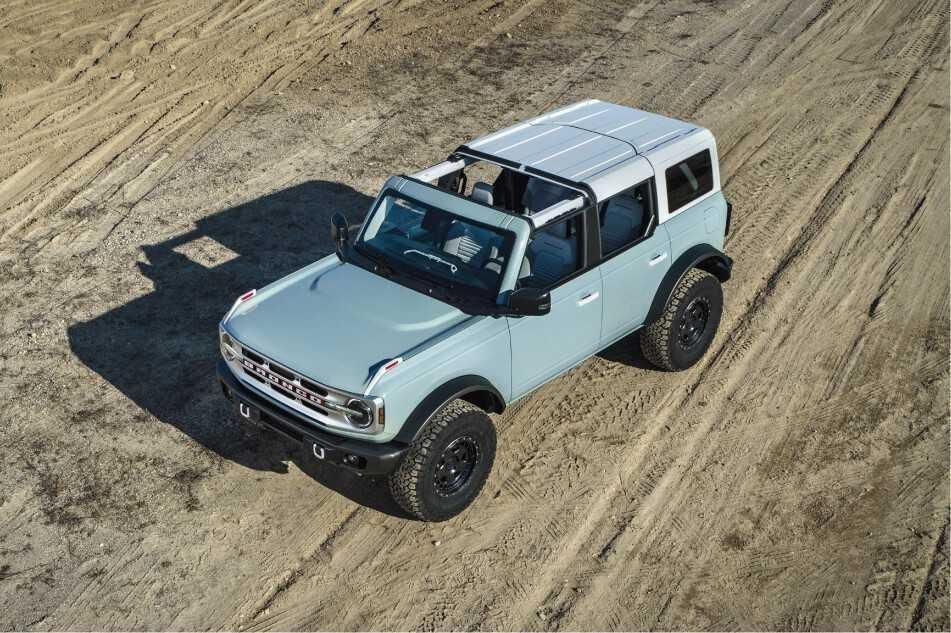 We wanted it. We got it. The Ford Bronco is back, and this 2021 redesign is better than ever. There is something for everyone and seven models that you can choose.
Our team at Humber Motor Ford cannot wait to show you all the Bronco's new bells and whistles. You'll be surprised by Bronco's rugged capability and power, all the latest and greatest in-vehicle technology, and lifesaving safety features. Ford built this machine wild - and that's not just a slogan!
Capability and Power
With a 2.3L EcoBoost Engine and 10-speed automatic transmission with 270 horsepower, this Bronco goes where you want to go! Electric Power-Assisted Steering comes standard on this model, providing you with effortless steering - even on rugged terrain.
Are you planning to go off-roading? Go ahead! With an available best-in-class departure angle of 37.2 degrees and a 29-degree break-over angle, you can handle the sharp drops and bumpy surprises that come your way.
Worried about branches and rocks that may be in the way? Don't be! With a best-in-class ground clearance of 11.6 inches, you can power right over them.
You've gone through the woods; do you also want to go over the river? With available best-in-class water fording capability of up to 33.5 inches, nothing is going to stop you from getting to Grandmother's house!
It doesn't matter where the adventure takes you. Bronco's Goes Over Any Terrain (G.O.A.T) drive modes let you traverse Sand, Slippery, Sport, Eco, and Normal surfaces with ease.
Technology
We know you need to stay connected, no matter how far you roam. The 8-inch touchscreen helps you stay in control. The SYNC 3 with optional voice-activated navigation provides GPS navigation with turn-by-turn instructions. Voice commands keep you safely tuned in to the road ahead.
We also know going "off-trail" sometimes sounds more glamorous than the reality. With the 180-Degree Camera with a split-view, Bronco gives you a closer look at the trail ahead. Since it uses a front-mounted camera, you're provided an image of the trail on your center screen. You'll make better decisions when you can see what's in front of you.
Auto Beam Headlamps may not sound technological, but these are. They're built to detect and measure ambient light, so the headlamps automatically turn on your high beams when you need them and dim them when you don't. We want your focus on the road ahead!
FordPass Connect with 4G LTE Wi-Fi Hotspot allows up to 10 devices to connect at once from up to 50 feet outside the vehicle. Using the app, you can lock, unlock, and start your vehicle from a distance. This app even helps you locate your parked car, which can certainly come in handy whether you've gotten turned around on your way back to camp or in a crowded parking garage.
Safety Features
Ford has provided for almost any contingency with their Ford Co-Pilot 360 Assist + safety package. These lifesaving features come standard and are available on most models, so you may need to ask a member of our sales team to add your favorite safety feature to your model package.
Adaptive Cruise Control with Stop-and-Go Lane Centering
It's like cruise control on steroids. This feature allows you to not only choose your preferred speed, but also to preset the desired distance between your vehicle and traffic that lies ahead. When traffic slows down, the system kicks in and maintains your preferred distance and speed, even coming to a complete stop until the vehicle ahead of you continues. If the system detects you're veering outside your lane, you're gently reminded to stay with a soft audible alarm.
This feature detects the vehicle ahead by using the available camera and radar technology. If you do not take action to slow your car, the system will do it for you. It also provides additional steering support to help you maneuver around vehicles that have come to an abrupt stop.
Blind Spot Information System with Cross-Traffic Alert
With built-in sensors and cameras, this system checks your blind spot and uses a light in the corresponding side-view mirror to alert you if traffic is spotted. No more straining your neck or asking your passenger, "Am I clear? Can I go?" before you try to change lanes. Should you ignore the light in the side-view mirror and begin to veer into the lane with traffic in your blind spot, an alarm will sound.
Cross-Traffic Alert alerts you while you're in reverse if there is cross-traffic on either side. With Cross-Traffic Alert, you won't ever again have to experience the jerk and lurch while trying to peek out of your parking space!
The 2021 Ford Bronco isn't on dealership lots yet, but drivers are making reservations for their favorite models now. Call Humber Ford on Confederation Drive today if you have questions about ordering the 2021 Ford Bronco. Soon, you will be able to see for yourself why we say the 2021 Bronco is Built Wild!