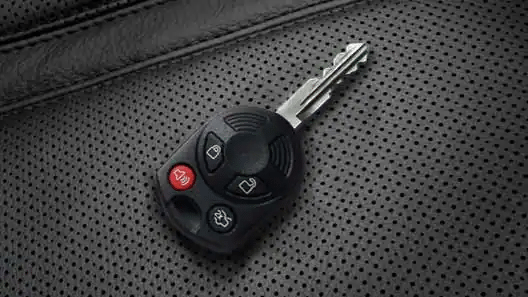 At Humber Motors Ford, our team wants you to know that Ford MyKey matters. MyKey is what it sounds like - a key that you can customize with life-saving safety settings.
Ideal for first-time drivers, Ford MyKey is just another way Ford researches and develops innovative ways to keep you and the people you love most safe.
Teens are at more risk for fatal crashes than any other age group.
According to the National Highway Traffic Safety Administration (NHTSA), speeding is a critical safety issue for teen drivers. In 2018, speed was the leading factor in 28% of fatal crashes that involved passenger vehicle teen drivers.
The Centers for Disease Control (CDC) reports that children aged 16-19 are three times as likely as drivers aged 20 or older to be in a fatal crash.
Ford works hard to find ways to keep your teenagers safe while they're on the road. MyKey administrators can configure the following settings that aid in the reduction of fatal crashes:
Vehicle Speed Limit. Set a responsible speed limit for the MyKey driver, accounting for the need for safe passing. Once the MyKey driver reaches the set speed, the display shows warnings, followed by an audible tone. Drivers will not be able to override this feature by depressing the accelerator or by using cruise control.
Vehicle Speed Minders. MyKey administrators may decide to set vehicle speed minders so that when the MyKey driver reaches those speeds, a tone helps remind the driver to slow down.
According to the Centers for Disease Control (CDC,) teens, as both passengers and drivers, have the lowest rate of seat belt use of any age group.
It can be hard to get teenagers to understand the importance of something as simple as a seatbelt. They may wear them while in the car with us, but then make exceptions when grownups aren't in the vehicle to enforce the rules.
Once you enable MyKey for your vehicle, a series of non-configurable settings are allowed, which cannot be adjusted by the administrator. A favorite of those non-configurable settings is that when the front seat passengers fail to wear their seatbelt, the safety belt reminder is turned on and will sound every six seconds, and the audio system will mute.
With MyKey, you can rest assured that your teen is likely wearing their seatbelt.
Distracted driving is one of the top five leading causes of accidents.
Teenagers aren't the only ones who are guilty of distracted driving. It's easy to make excuses for sending a "quick text" or turning up the volume of a favorite song. We all know it only takes a second of distraction to cause an accident.
Do Not Disturb has been added to the configurable setting options available to MyKey administrators. This will force incoming calls straight to voicemail and put new text messages on hold while the vehicle is in use.
By using another of MyKey's configurable settings, administrators can set the vehicle's audio system to a maximum volume of 45%. Should the MyKey driver try to turn up the level, a message will show in the vehicle display.
If you're concerned that your driver may be unduly influenced by the adult content available on your satellite radio, don't worry! Once you enable MyKey, restrictions on adult content will be turned on automatically.
Parents need peace of mind.
It's hard but inevitable to send your teenagers out into the world on their own. With Ford MyKey, parents can have more peace of mind that safety standards are met - even when they aren't in the vehicle.
Other helpful settings that make a difference with Ford MyKey include:
A low fuel or low charge warning activates at 75 miles instead of the typical 55 miles, giving drivers a better opportunity to make safe, well-lit choices for stopping.
Driver-assist features, if equipped on your vehicle, will be forced on. These typically include the features in the Ford Co-Pilot360 Technology suite and other parking aids.
Enable the "always-on" setting for Advance Trac or traction control and 911 Assist or Emergency Assist.
With safety measures like the ones MyKey puts in place, parents can have some peace of mind when teenagers venture out.
About Us
Our team at Humber Motors Ford is proud of the many ways Ford has proven its dedication to the safety of our customers. With innovative technologies like Ford MyKey and Ford Co-Pilot360 Technology, we know our research and development strategies in safety are making a tangible, life-changing difference.
Come to Humber Motors Ford today, and ask one of our sales team members about all the ways Ford is committed to your safety. We want to show you all the standard and available safety features on the Ford model vehicles you're interested in, including MyKey.
Whether you have first-time drivers in the house or you're trying to encourage better driving habits, MyKey is an easy way to increase safe-driving awareness.